All month long, our racing guru David Scoggan is blogging LIVE from Lucas Oil Raceway! Check back here regularly for a dose of Dave's wit and whimsy.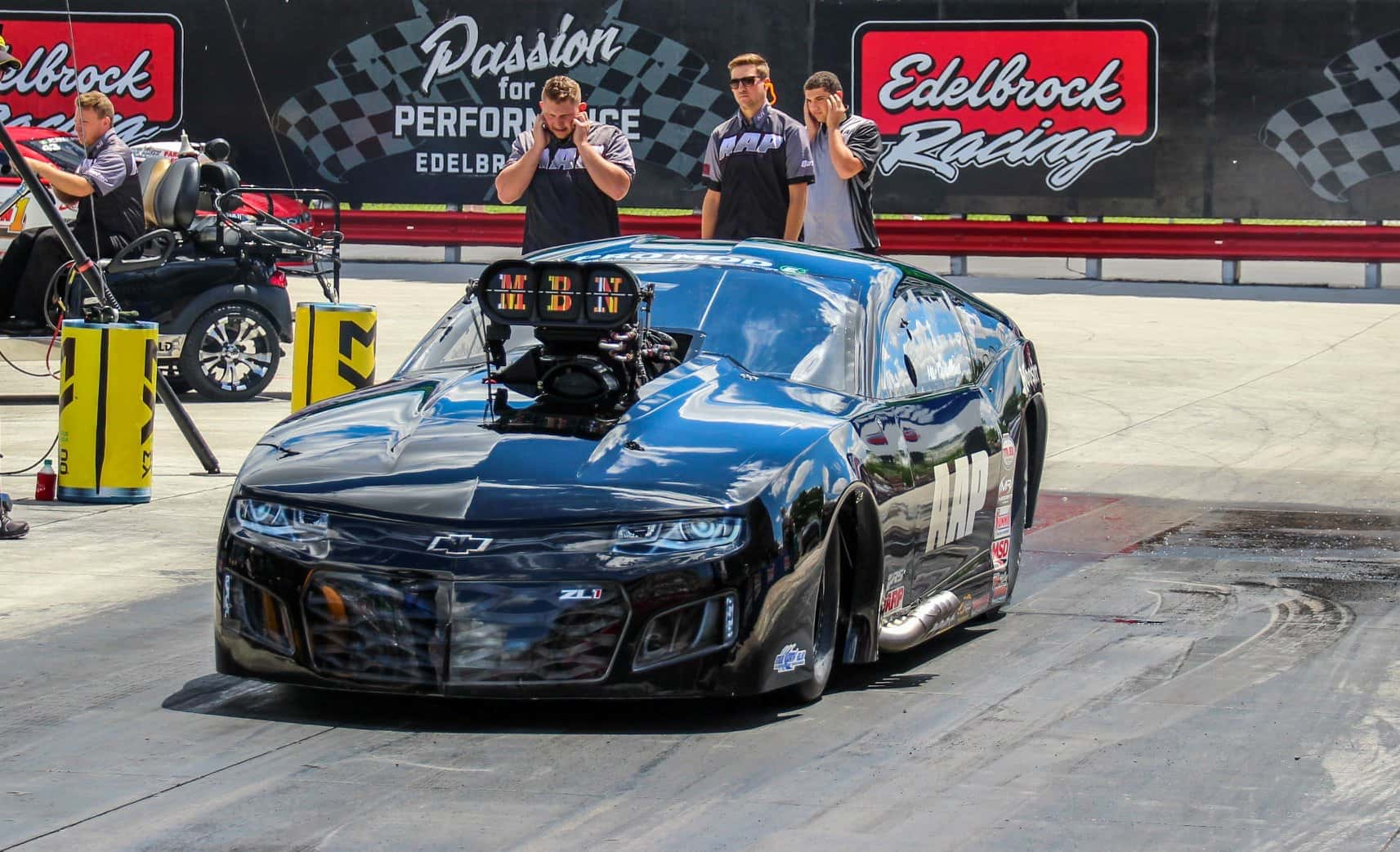 Mike Castellana at Norwalk, photo courtesy Real Pro Mod
You don't have to be an NHRA devotee to have heard the term "Pro Mod". The popular Discovery Channel television show "Street Outlaws", which originated with a group of Oklahoma renegades racing their modified street cars in unsanctioned areas, evolved to a level where some racers began employing Pro Mod-style, purpose-built race cars to compete. This led to much cursing and complaining (TV loves that!) about the inclusion of said vehicles.
Well, there's a different type of cursing and complaining going on in the NHRA Pro Mod series that will be featured at the Chevrolet Performance U.S. Nationals. It goes back to the last event on the 12-race PM schedule, the June Norwalk, Ohio race. Qualifiers two through sixteen (the final spot) logged in with ET's between 5.74 and 5.79 — a mere .05 of a second gap! Mike Castellana and his Frank Manzo-tuned, supercharged, AAP-sponsored Camaro, however, threw down a backbreaking 5.70 ET to claim the top spot and out came the "long knives".
This category incorporates three distinctly-different modes of power adders: supercharged 526-cubic-inch engine, turbocharged 526 engine, or 903-cubic-inch fuel-injected engine with nitrous-oxide assist. After Castellana's Norwalk pass, it was strongly opined that the nitrous cars were at a distinct disadvantage and their ranks have severely dwindled, so a rules adjustment was implemented to slow the supercharged and turbocharged runners slightly. The USN will be the first event to be conducted under the new regulations.
Rules alterations or not, this class will still be the most exciting, wide-open, quarter-mile category on display at Indy. There are, as of this writing, 29 cars entered for the 16 available spots and anyone good enough to qualify could win the event. The problem is, every one of those 29 hopefuls could shake the tires, wheelstand, cross the centerline, or smack the wall on any or all of their allotted qualifying passes — these machines are just that unpredictable!