All month long, our racing guru David Scoggan is blogging LIVE from Lucas Oil Raceway! Check back here regularly for a dose of Dave's wit and whimsy.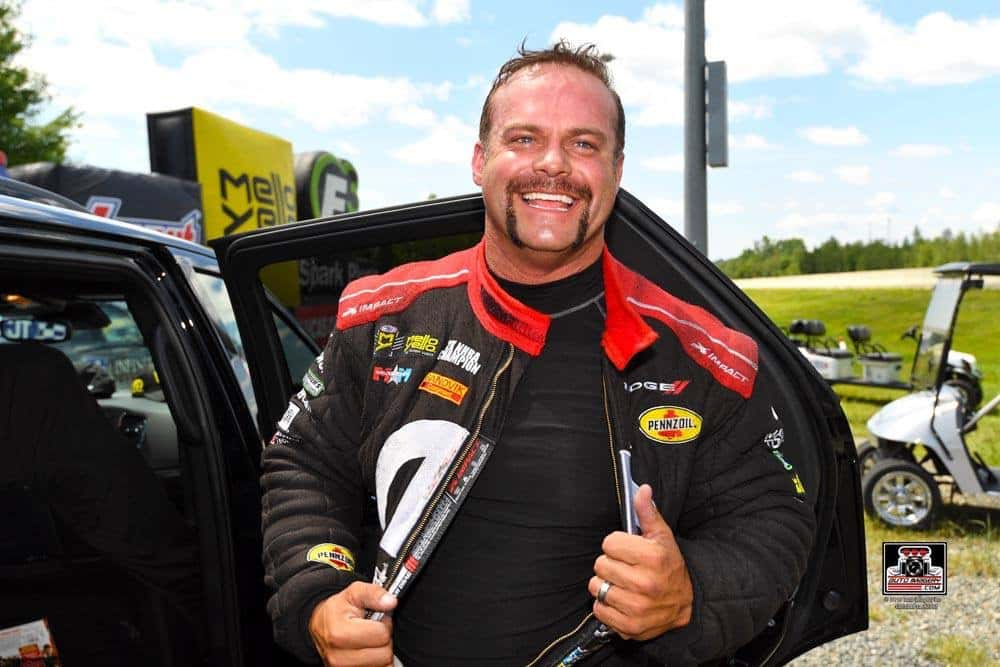 Photo credit: Auto Imagery/Don Schumacher Racing
In the cool evening air of Friday, September 1, 2017, Matt Hagan staged his black and blue Mopar/Don Schumacher Racing Dodge Charger Funny Car in Lucas Oil Raceway's right-hand Lane. 3.799 seconds later, the muscular cattle-farmer from Virginia jokingly known as "Hulk" established two LOR track records that may never be broken and a speed number for the ages.
Hagan's MPH at the end of his 1,000-foot pass was a ridiculous 338.77; it still stands as the fastest run in the history of the facility (faster even than Top Fuel) and is the fourth-fastest run in NHRA annals, trailing Robert Hight's 2017 stunners of 339.87 at Sonoma and 339.02 at Reading, and Hagan's own 338.85 set at Topeka in May, '17.
The incredible aspect of Hagan's performance is that it was produced by a front-engine, 125-inch wheelbase, 2,600-pound, wheel-driven monster. Back at the 1973 Nationals, an exhibition vehicle called the "Pollution Packer" made an even faster run at IRP/LOR. Dave Anderson guided the rocket-powered dragster to a quarter-mile clocking of 344.82 MPH, but this was a thrust-propelled machine, unbridled by a rulebook, that carried half the weight of Hagan's and Hight's Funny Cars, plus an additional 320 feet to gain speed!
Due to rule changes and other adjustments meant to corral speeds in the interest of safety and cost, the Funny Cars and Top Fuelers competing in this year's Chevrolet Performance U.S. Nationals will probably see top speeds in the 330 MPH range, but some 334's have occasionally popped up this season when conditions are favorable.
It's truly mind-boggling to dream of what an unfettered, unrestricted FC could produce with today's technology, but sometimes the sanctioning bodies of all racing series have to prevent the competitors from themselves. Still, drag racing has ALWAYS been about "big numbers" and many veteran USN fans can proudly state, "I was there when John Mulligan dropped that 6.43 in 1969!", or "Man, I saw Big Daddy unload that 6.21 in '71!", or "Remember when Snake ran that 5.63 in 1982?". (Check, Double Check, and Triple Check….)
Perhaps some of us are guilty of living too much in the past, but, to me, the biggest Indy memories are always going to be the monumental achievements, pushing the envelope.