All month long, our racing guru David Scoggan is blogging LIVE from the track! Check back here regularly for a dose of Dave's wit and whimsy.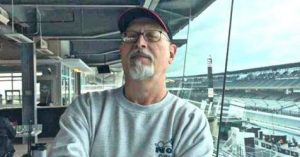 After two days of practice, a familiar message has been sent — the most obvious results may not be the most relevant. While the eye-popping speeds of Honda drivers Marco Andretti (227.053) and Scott Dixon (226.329) got the most attention and headlines, the "real" fast guys on this traffic-induced, race-boosted practice day were buried in the clutter. The quickest laps turned without the assistance of a tow were Tony Kanaan in A.J.Foyt's #14 ABC Supply Chevy at 223.048, followed by Ed Carpenter's Chevy at 222.754, and Sebastien Bourdais at 222.441 in Dale Coyne's Honda. Oh, and don't be concerned that Graham Rahal was 34th on the day's speed chart because teammate Takuma Sato was 3rd at 226.1 in basically an identical car!
Just as an aside, the local weather persons have duly noted that "this is the warmest May in Indianapolis in 122 years", which I guess is preferable to being the "wettest" May.
Victor Oladipo was a surprising, out-of-left-field choice to drive the Corvette pace car on Race Day. Great for Vic and our over-achieving Indiana Pacers, but it would have been nice to honor one of our retired drivers (say, Bobby Unser on the 50th anniversary of his first win in 1968) instead. Marketing rules…….