All month long, our racing guru David Scoggan is blogging LIVE from the track! Check back here regularly for a dose of Dave's wit and whimsy.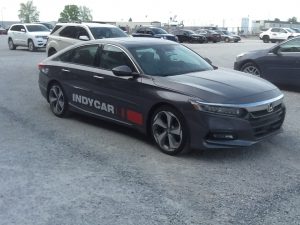 This is a Honda vehicle that serves as an official Indycar vehicle at most races in the series. This is not, however, an Indy 500 pace car. Since 2002, the only auto manufacturer to pace the race has been Chevrolet. The last Ford was a Mustang GT in 1994, the last Mopar was a Dodge Viper in 1996.
Even though Honda has been an engine supplier for Indycar since 2003 and saved the IRL by serving as the sole powerplant from 2006 through 2011, the company is disregarded because it is a "foreign" manufacturer (even as most of the cars sold in the USA are built here). Don't give me the "it's tradition" line, because at one time "25 and 8" was attempted to be turned into a tradition. I for one would welcome an Acura NSX pace car at The Greatest Spectacle in Racing and I think most informed people would agree!