All month long, our racing guru David Scoggan is blogging LIVE from the track! Check back here regularly for a dose of Dave's wit and whimsy.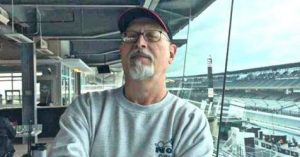 Tuesday's first official practice period didn't offer much clarity as all the fast speeds were accomplished in packs (as usual) and Chevy and Honda appear equal in the identical Dallara chassis. Driver James Davison opined after running some laps in the new car configuration that "these cars might be about 5 MPH slower than last year's cars." If true, that might put the pole speed at around 227-228 given the ambient time trial conditions (remember, in qualifying, you're out there all by yourself).
There are some wild liveries to look out for this May. The "Yellow Submarine" Pennzoil look returns with Helio Castroneves, Danica has the neon green "GoDaddy" retro style, Simon Pagenaud is again clad in the day-glo chartreuse "Menard's" colors, and Zach Veach's #26 has switched to a garish orange and yellow design bannering sponsor "Relay".
Danica Patrick made an interesting comment regarding previous possibilities of returning to the 500 while driving full time in NASCAR : "The way that it all went down with being able to have time to prepare and be really focused, like, I watched Kurt (Busch) do the Double (500 and Charlotte). I really tried to do the Double the second year I was gone. But I watched (Kurt) do it, how much back and forth you have to do. I mean, look, you can do it, but that to me, based on the fact that I had done so well here so many times, had so much fun history here in my own memory, like, I didn't want to come back just to do the Double."