All month long, our racing guru David Scoggan is blogging LIVE from the track! Check back here regularly for a dose of Dave's wit and whimsy.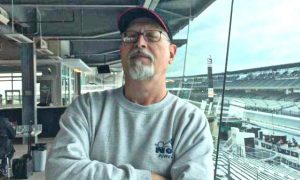 Well, I guess they couldn't have picked two better days for the Speedway to be dormant for change-over given the lousy weather we're experiencing. While the Saturday showers provided a thrilling GP finish, it certainly was a detriment to attendance figures. (My rule of thumb is generally to take whatever total the IMS Star reports, then cut that in half.) I'd estimate 15,000, but who really knows? The bottom line is that there aren't many road-racing fans in this community and most of the out-of-town crowd are saving their money for Memorial Day weekend.
Could they do anything to spice things up? No, I think it is what it is; a strong field of IndyCars, a depleted lineup (9 cars) of Indy Lights machines, and two lower-formula classes that are getting great experience and exposure, but very little attention from what fans do show up. Would some faster, louder machinery draw more fans — IMSA? Trans-Am? Historic Can-Am? — or will people just stay home and watch on TV? I hear the ratings for the GP were up 30% from last year, but isn't it funny that it's "too cold/wet" to go to IMS in May and "too hot" to attend a bad stock car race in the summer?