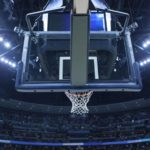 In their Game 2 matchup of the Western Conference finals, the Denver Nuggets defeated the Los Angeles Lakers 108-103 on Thursday at home, taking a 2-0 lead in the series.
Jamal Murray led the Nuggets with 37 points (23 of them in the fourth quarter) on 11-of-24 shooting. while Nikola Jokić had a 23-point, 17-rebound, 12-assist outing. For the Lakers, LeBron James and Austin Reaves each scored 22 points, while Rui Hachimura added 21 to helping the Lakers to a five-point lead at halftime.
Game 3 of the Lakers and Nuggets series will take place on Saturday at 8:30 p.m. ET in Los Angeles.
Editorial credit: Brocreative / Shutterstock.com