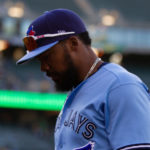 The Seattle Mariners announced Wednesday that they have acquired outfielder Teoscar Hernández from the Toronto Blue Jays in exchange for pitcher Erik Swanson and lefty prospect Adam Macko.
Mariners president of baseball operations Jerry Dipoto said in a release: "We began our offseason with the intent to add impact and length to our lineup. In adding Teoscar to an already solid foundation, we feel we've become a far more dangerous offensive club."  Executive vice president and general manager of baseball operations Justin Hollander added: "Teoscar has been one of the better middle-of-the-order bats in the American League and will be an exciting addition to our lineup as we look to strengthen our team and return to the playoffs in 2023."
The 30-year-old Hernández made his MLB debut in 2016 for the Houston Astros, and in 2017 the Astros traded Hernández and outfielder Nori Aoki to the Blue Jays in 2017 in exchange for pitcher Francisco Liriano. Last season for the Jays, Hernández hit .267 with 25 home runs and 77 RBIs in 131 games. The 2021 All-Star selection hit a career-high .296 with 32 homers and 116 RBIs two seasons ago. Hernández is eligible for arbitration this off-season. He owns a career .262 batting average, with 133 home runs and 380 RBIs in 651 games.
Editorial credit: Conor P. Fitzgerald / Shutterstock.com