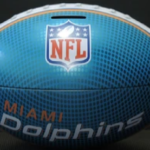 On Monday. the Miami Dolphins announced the release of veteran running back Sony Michel, a former Patriots first-rounder who signed with the Dolphins in May as a free agent.
Michel won the second Super Bowl of his career and rushed for 845 yards with the Rams last season, but was also routinely limited in practice for health reasons, and uneven in his performance.  The Dolphins owe Michel the guaranteed portion ($850,000) of the one-year, $2.1 million deal he signed with the team.  Michel has run for 3,137 yards and 18 TDs in his four NFL seasons, including helping New England earn the championship in Super Bowl LIII.
Along with Michel, the Dolphins also announced the release of RBs Gerrid Doaks and ZaQuandre White, whom were among 13 cuts on by the team on Monday.
Editorial credit: Nara_money / Shutterstock.com