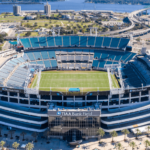 The Jacksonville Jaguars and the Carolina Panthers announced the trade of Panthers tight end Dan Arnold, and Jaguars cornerback C.J. Henderson. The Jaguars will also send a third-round pick in the 2022 NFL Draft to the Panthers in exchange for Arnold and a fifth-round pick.
The 23-year-old Henderson was the No. 9 overall pick in the 2020 NFL Draft. He started eight games in his rookie campaign, but missed the second half of the season due to a groin injury. Henderson totaled eight tackles and a tackle for a loss in two starts this season; he was inactive for the Jaguars' Week 3 loss to the Arizona Cardinals on Sunday in Jacksonville, Fla.
Arnold posted a career-high 438 yards on 31 catches in 16 games last season for the Cardinals. He signed a two-year, $6 million contract in free agency last off-season with he Panthers. The four-year veteran totaled 84 yards on seven catches in three games this season with the Panthers.
The Panthers (3-0) face the Dallas Cowboys at 1 p.m. EDT Sunday at AT&T Stadium in Arlington, Texas. The Jaguars (0-3) battle the Cincinnati Bengals at 8:20 p.m. EDT Thursday at Paul Brown Stadium in Cincinnati.
Editorial credit: NEFLO PHOTO / Shutterstock.com