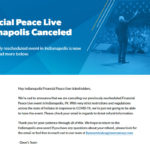 The Quickest Way to Start Winning with Money
Indianapolis, IN
CANCELED
Presented by:

Go from being out of control to confidently managing your money—all in one exciting night. You'll walk away with a plan and vision for your financial future.
Financial Peace Live will teach you the seven-step plan that has helped nearly six million people get out of debt, save, and build wealth. National best-selling authors Chris Hogan and Anthony ONeal will guide you through a night full of inspiration, motivation, and life-change.
You work too hard to have nothing to show for it. Taking control of your money is easier than you think, and we'll show you how! Ditch the paycheck-to-paycheck life, beginning now.
---
Interested in volunteering at the event? Learn more here.