All month long, our racing guru David Scoggan is blogging LIVE from Lucas Oil Raceway! Check back here regularly for a dose of Dave's wit and whimsy.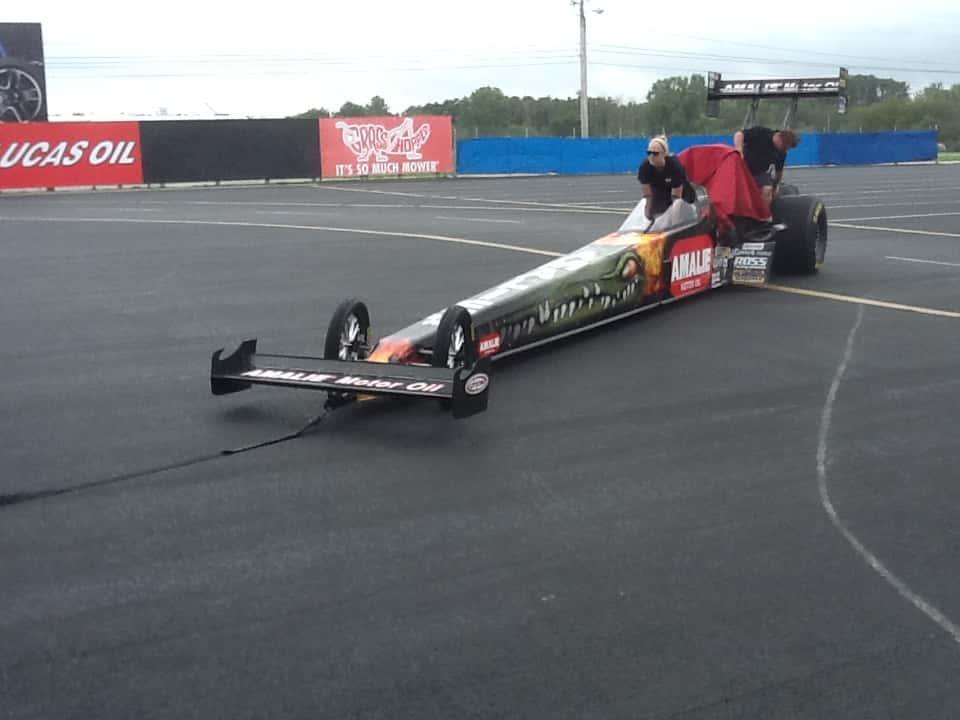 Terry McMillen's Top Fueler
While the U.S. Nationals pre-test fizzled to its conclusion on Thursday with a mere six participants making passes, the excellent weather conditions (once it stopped raining) allowed for some smiling faces at day's end.
Of the three Top Fuel Dragsters on hand, both defending USN champion (and the pride of Elkhart, Indiana) Terry McMillen and Aussie driver Wayne Newby posted ET's of 3.811 seconds, but analyzing the incremental numbers tells the real story. McMillen's Amalie Oil machine was clocked at 3.001/287.60 MPH at the eighth-mile, so had he run cleanly to the finish line the run would have been in the 3.72-3.74 range — a very competitive shot. Newby's Rapisarda entry
used their second day of testing to improve to a 3.843/316.52 full-pull (top speed of the test), then returned with a 3.811/270.81 closer that featured a stout .827 60-foot clocking and half-track arithmetic of 3.024/282.30, indicating 3.75-range probability. Justin Ashley's lone pass was a 3.976/240.89 that featured 3.071/269.73 numbers before shutting off.
Cruz Pedregon made three successful runs and ended the day with a 4.024/304.67 best that included half-track numbers of 3.246 and 270.92 in his Snap-On Tools Dodge Charger FC. Jason Scruggs made three additional hits in his Pro Mod and improved to 5.789/244.56 with his parting shot. Edmonton, Alberta, Canada's Kevin Boyer also made three runs on his Top Fuel Harley with his opening lap of 6.684/166.87 the best.
In off-track USN news, Erica Enders is no longer on the Pro Mod entry list, but has instead switched over to Stock Eliminator and a FS/AA class 2012 Mustang sponsored by the Ray Skillman Auto Group; you can only run two eliminators at the same event so Erica will add Stock to her Pro Stock duties with Elite Motorsports. Also, the phrase "Canadian weather front" has been mentioned in conjunction with Labor Day weekend in the 317 and all I can say is — PLEASE!