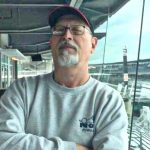 All month long, our racing guru David Scoggan is blogging LIVE from the track! Check back here regularly for a dose of Dave's wit and whimsy.
Two crashes marred the second day of practice with rookie Felix Rosenqvist sustaining the hardest hit of the week. The rookie from Sweden got too low in turn 2 at 5:02, made a complete spin and pounded the outer barrier, then slid across the track directly in front of Will Power and nosed into the inside tire barrier. Felix emerged unhurt, but the #10 NTT DATA Honda will require major surgery.
Fernando Alonso and Team McLaren have decided to switch to their backup tub that tested at Texas Motor Speedway after crashing the primary car earlier in the day. The plan is to have both chassis ready for action if needed.
Josef Newgarden led the speed chart with a 228.856 lap in his #2 Shell V-Power Penske Chevy, with a blazing 237.2 trap speed going into turn three. (As usual, all the top speeds were tow-aided.) "I think we still need to make the car a little more comfy in traffic," said Jo New. "People are fighting both ends of the car this year."
Scott Dixon (228.835), Spencer Pigot (228.658), rookie Santino Ferrucci — from Woodbury, Connecticut — (228.561), and Helio Castroneves (228.441) completed the top five. Perhaps a more accurate representation of speeds are the No-Tow (unassisted) speeds turned by Alexander Rossi at 224.648 and Tony Kanaan's 224.630; remember, even though the horsepower will increase for qualifying, you still have to run 4 laps by yourself!