All month long, our racing guru David Scoggan is blogging LIVE from the track! Check back here regularly for a dose of Dave's wit and whimsy.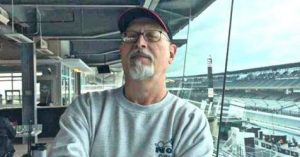 Sunny skies and warmer track temperatures threw Sunday's one-shot re-qualifying participants into yet another realm of setup guessing. While most teams were more-or-less able to replicate their Saturday performances, a few drivers found themselves hanging on for dear life and doing a free-fall down the field of 33.
Alexander Rossi went from a 2-lap average bound for Row 5 to a hairy final two circuits that dropped him to the middle of the last row! Ed Jones suffered a similar fate and fell from a potential slot in Row 6 to a seat in Row 10 where he joins the struggling Graham Rahal.
On the positive tip, rookies Zachary Claman De Melo (Row 5) and Kyle Kaiser (Row 6) performed admirably. James Davison improved from Saturday's slowest qualifier to an inside Row 7 starting slot as the entire A.J.Foyt team excelled with both Tony Kanaan (10th) and rookie Matheus Leist (11th) running faster than "Fast Nine" runner Scott Dixon. Sebastien Bourdais carried the spear for Honda and broke up the "Chevy Party" by placing his #18 SealMaster/DCR mount in the fifth spot.
Monday will provide an open practice period for all 33 qualified drivers to work on Race Day setups. This is yet another "new tradition" created in the last few years to render the existing "Carb Day" practice period more for show and less for relevance.