All month long, our racing guru David Scoggan is blogging LIVE from Lucas Oil Raceway! Check back here regularly for a dose of Dave's wit and whimsy.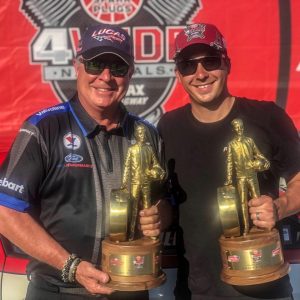 Photo courtesy Skillman Motorsports
If you spend any time in the Indianapolis area in close proximity to a television, you are well aware of the Ray Skillman Auto Group, where they "Stack 'em deep and sell 'em cheap." Pictured here are the second and third generations of the racing Skillman family, Bill on the left and his son Drew on the right, each holding victory Wallys from a national event in Charlotte. They will both be competing in the SamTech Factory Stock Showdown at Indy, which showcases 7-second, 170-plus MPH Mustangs, Camaros, and Challengers; Bill and Drew will also be driving separate Mustangs in either Stock or Super Stock Eliminator. Even patriarch Ray Skillman, Bill's father, will return to action in Competition Eliminator driving an altered class Mustang. While the overall Skillman auto empire rivals that of Rick Hendrick in size and diversity of makes, Skillman has stayed loyal to NHRA, unlike Hendrick, who long ago turned his back on his drag racing roots, plus Ray has an automotive museum in Greenwood that has to be seen to be believed. All hail our local heroes!