All month long, our racing guru David Scoggan was blogging LIVE from the track! Check back NEXT YEAR for more of Dave's wit and whimsy.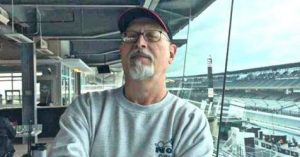 Even though it meant yet another win for Roger Penske — that's 17 and counting! — it was great to see Will Power finally win that elusive Indy 500 in his eleventh attempt. Willy P was strong the entire month starting with his victory in the Indy GP, making him the first driver to "sweep" the month of May. Power earned a stout $2.525 million paycheck, but he's just as happy with the Corvette pace car that he claims he's giving to his wife. (Being a Chevy-propelled Indycar driver, I assume GM is happy enough to give Power anything he asks for right now!)
Pole sitter Ed Carpenter led the most laps (65) en route to a career-best 500 finish, his second-place bringing a $911,504 payday. Power, Carpenter, and Tony Kanaan were arguably the three strongest cars in the event and TK was ahead of Carpenter on the track when his right rear tire suffered a puncture on lap 99. The emergency stop cost Kanaan a lap, but he got it back on a wave-around during a yellow and had a sure top-ten finish slip away when he crashed on lap 188. As both TK and car owner A. J. Foyt commented after the race, "They knew we were here today!"
Alexander Rossi again put on an amazing show as he battled from the last row to place fourth; some of his outside passes on restarts were heart-stopping and there is no question that the 2016 Indy winner has no fear of "total commitment". Scott Dixon milked his fuel to finish third (highest-placed Honda), but he was never a real factor.
The race was somewhat strange, with processional, follow-the-leader running early ( due to excessive heat, new aerodynamic package, tire degradation, or all of the above?), then a rash of single-car crashes when the cars would inexplicably snap around on some very talented drivers (Helio, Bourdais, Kanaan, Ed Jones, Danica, etc.). The abundance of yellows enticed many backmarkers to attempt an alternate, fuel-saving strategy, hoping for more cautions that would enable them to crawl to the finish without pitting (see Rossi '16). Stefan Wilson, Jack Harvey, and Oriol Servia all came up a couple of laps short in their quest, however, and Power swept by for the win.
Robert Wickens ninth-place result earned him the "Rookie of the Year" award, although Matheus Leist and his 13th place run for Foyt could have easily taken the prize. Finally, the most candid comment on the new car I heard post-race was from Graham Rahal, who flatly stated, "The thing is an SOB to drive!" See you next May, I'm out!