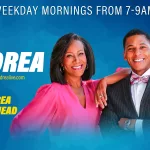 Alexander Joyce, Andrea Morehead Unite for Power-Packed Radio Show
Start your day the right way with a dose of financial wisdom and positive energy. Indiana's financial expert, Alexander Joyce, and Indiana's own Andrea Moorhead are teaming up on the radio from 7 to 9 every weekday morning. Alex + Andrea Live broadcasts on Freedom 95 (95.9 FM, 950 AM, stream online at freedom95.us).

Imagine a place where money meets good vibes — that's exactly what you'll experience. Together, Alex and Andrea will explore not only the practical aspects of finance but also delve into life's greater aspirations, like liberty and the pursuit of financial freedom.

"You know that mantra 'I'm living my best life,' well, let's live a better than best life," said Andrea. Alex adds, "Take it in. Watch the sun rise. And just hang out with us."
As someone who lives and breathes finance, Alex is passionate about coaching individuals to make informed financial decisions. You know Andrea from her 30 years of covering local, national, and international news. Today she's helping women harness the reality that they can overcome all the challenges of life that come their way.

"This time, I get to give you all of me — my entire personality," said Andrea.

It's time to make your money work for you and take decisive steps towards fiscal freedom. Call in and join the discussion every weekday morning, starting at 7 a.m.

Alex + Andrea, broadcasting live from the ReJoyce Financial Studio in Carmel, Indiana, only on Freedom 95.