All month long, our racing guru David Scoggan is blogging LIVE from Lucas Oil Raceway! Check back here regularly for a dose of Dave's wit and whimsy.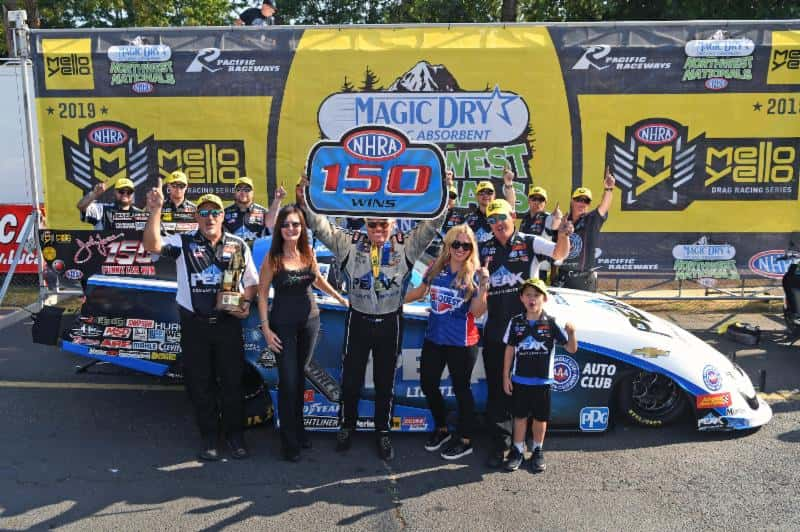 As NHRA legend John Force basks in the glory of his long-awaited, series-high 150th event win, let's take a look back at his personal history in our Chevrolet Performance U.S. Nationals at Brownsburg's Lucas Oil Raceway.
Back in 1979, when the facility was just plain old Indianapolis Raceway Park located in Clermont, the 30-year-old Californian and wife Laurie showed up with their yellow and blue "Brute Force" Corvette funny car carrying meager sponsorship from Wendy's Hamburgers. Force missed the show as his 6.19 best ET came up short of the 16-car bump spot, ending up 20th out of the 31 cars that made attempts.
Force qualified for eliminations in both 1980 and '81, then for some unknown reason failed to enter the 1982 Nationals, the only time in the last 40 years that he did not attend "The Big Go". His first success at Indy came in the special, secondary event that began life as the "Big Bud Shootout", winning that 8-car race for the initial time in 1987 and then five additional times before the extra race expired after the 2017 edition.
The first USN final-round appearance for Force came in 1991, but he fell short to the "Hawaiian Punch" Dodge driven by Jim White. Finally, in 1993, the Austin Coil/Castrol GTX magic brought Force his initial U.S. Nationals "Wally" trophy when he soloed to a win over Kenji Okazaki in Jim Dunn's broken "Mooneyes" Dodge. Another runner-up in 1995, this to arch-nemesis Cruz Pedregon's McDonald's Firebird, was followed by Indy win number two in '96 as Force bested a tire-smoking Al Hofmann.
Win number three arrived in 1998 with Randy Anderson the final-round victim and Force's fourth — and most recent — USN victory came in a 2002 squeaker over Tommy Johnson, Junior. Amazingly, Force has only managed two runner-up results since his last Indy win, losing to female drivers in both 2010 (his daughter Ashley Force Hood) and 2014 (Alexis DeJoria in Connie Kalitta's Patron Toyota).
Odds are strong for another John Force U.S. Nationals celebration as his historic Seattle win last weekend will attest. He is essentially campaigning the same car that daughter Courtney Force Rahal, who is currently in a self-imposed driving hiatus, took to four wins in 2018. With a tuning brain trust on the Peak Camaro led by Brian Corradi and Daniel Hood (Force's son-in-law), the 2019 Nationals could easily see John tie Ed "The Ace" McCulloch's category-high five Indy FC wins.