All month long, our racing guru David Scoggan is blogging LIVE from the track! Check back here regularly for a dose of Dave's wit and whimsy.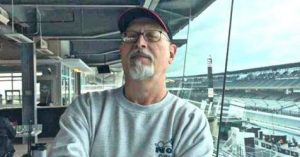 As we near the IMS kickoff of the Indy Grand Prix, let me offer my take on the recent furor over the "Guaranteed Qualifying Debate".
Let's go back to the dark ages, when time trials required a 10-lap run; that was changed to a more realistic 4-lap requirement. They used to determine the first day qualifying order by lining the cars up in the garage area THE NIGHT BEFORE (can you imagine Marco sleeping in his Dallara?) The pole position used to go to the fastest qualifier on the opening day of time trials — period — which created a scenario in 1969 where, due to weather, Jigger Sirois would have claimed the top spot at a speed 10 MPH slower than the top practice speeds. Thankfully, that fluky situation was rectified with a "everyone in line gets one shot at the pole" rule in 1970.
The "Energy Crisis" of 1974 (look it up, kids) meant that Indy 500 qualifying was cut from 4 days to 2, which would have been plenty of time had weather not intervened (as it always does), so again feelings were hurt and lawsuits were filed when some teams felt like they had been screwed.
Then came the big enchilada, the game changer: 25/8, a decision that forever changed how the Indianapolis 500 was perceived and how loyalties were challenged. More on that later, but subsequent years devolved into "Let's get to 33 cars and then stop trying", meaning that any driver that had a ride was going to start the Indy 500. Not exactly the Good Old Days…..
So, back to the dreaded 25/8 ruling, designed to reward loyalty to Tony George's vision, which assured the top 25 points earners in the 1996 IRL season a spot in that year's Indy 500 provided they completed 4 laps at an average speed above 219.999 MPH. This created a laughable environment where Arie Luyendyk qualified his Reynard-Cosworth at 236 MPH and Johnny O'Connell qualified a similar Reynard-Cosworth at 220 MPH — and he was LOCKED INTO THE FIELD! Not exactly a white-knuckle ride, eh?
This result is exactly what led to the unbelievable occurrence of a rival race — CART's US 500 being conducted on the same day as the Indy 500! An examination of both starting lineup reveals that a unified Indy 500 lineup would have likely been 18 CART cars and 15 IRL cars; the CART Toyota entries were dog-slow that year and all the quality Buicks in the IRL would definitely have qualified without gimmickry. A fairer equation would have been 10/23 or 12/21 — guaranteeing the top 10 (or 12) IRL drivers a spot should have ensured total participation.
But, of course, it was never about fairness, it was about telling the established series and its teams, "We don't need you — take it or leave it." So, they left it, went to Michigan and everything slowly went to rot.
Which brings me to 2019 and beyond. There is no "rival league", no other top-line open-wheel, rear-engined series in the USA that is not a feeder series, and the key words today are "survival" and "growth". So while you may invoke "tradition" as a reason to detest guaranteed spots in the Indy 500, please admit that real tradition died in 1996, when management imposed unfair working conditions on their "union" performers and said performers decided to go on strike in another state. Don't call it a "boycott" — their services were clearly not wanted!
Therefore, to many fans and followers of the Indianapolis 500, another change or alteration to the qualifying format or procedure has BECOME the tradition. What is the "norm" in this day and age and — more importantly — what difference does it make? Very few individuals truly give a darn anymore and have been numbed by the process. Re-qualifying on Sunday after a full day on Saturday just to determine the Sunday order, the gun going off at 5:50 to accommodate television, "Express Lane" and unlimited attempts, etc., etc.
Enough already, just get us to Race Day!